Description
Empower and Motivate Ceramic Mug – 11 oz White Ceramic with Pink Positive Affirmations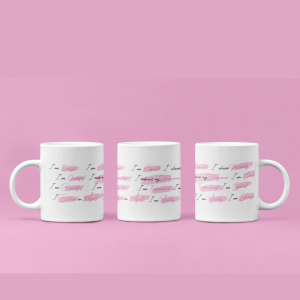 This 11 oz ceramic mug features an elegant design with inspiring pink positive affirmation quotes. Whether you're looking to boost your own spirits or give someone special a thoughtful gift, this mug is sure to please. This 11 oz ceramic mug offers the perfect gift for a special person in your life, with motivational affirmations printed on both sides of the durable white ceramic.
It is designed to bring motivation and inspiration, with cheerful and uplifting reminders that spread daily positivity and encouragement. Enjoy a custom coffee mug with this unique decoration that shows just how much you care about your special someone.
It features:
Glossy white exterior
Durable construction that can hold hot liquids
Inspiring pink positive affirmation quotes
A great gift idea for any occasion!
This white ceramic mug with inspiring affirmations is the perfect way to show your appreciation and bring some extra positivity into any room. Start your day off strong by sipping your favorite beverage from this beautiful mug and remember what really matters in life. Not only does it make for a unique decoration, but it will make anyone feel empowered and motivated each time they take a sip!