How To Plan Out 30 Days of Social Media Post Ideas.
Posted On March 20, 2023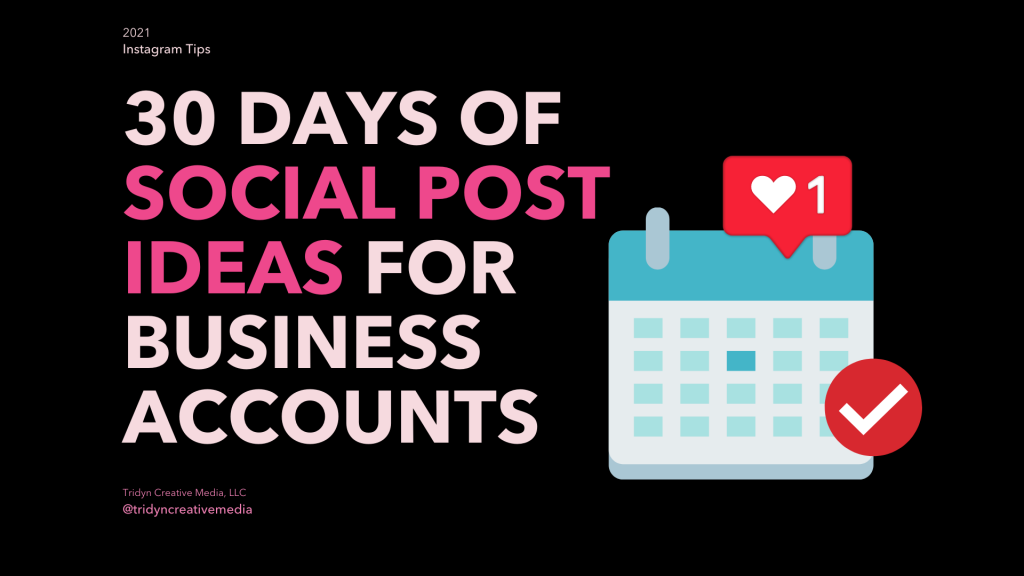 Need more social media post ideas for your business accounts? Does coming up with 30 days worth of content ideas feel overwhelming? If you're a service-based or small business owner, this article is for you. You can end the overwhelm and easily create a month's worth of content in one day.
Consistency in posting on social media platforms is essential for growth.
People have short attentions spans and are bombarded with information daily. You need to post regularly to your social media accounts to be remembered. The amount of content that your audience is being exposed to daily is increasing so if you're not showing up consistently, you'll easily be forgotten or overlooked.
You have to have a consistent focus in what you post to your social media pages so people keep coming back. It takes an average of 7-8 encounters with your brand's content for people to remember and distinguish your brand from your competition.
People will follow if they find your content valuable. Creating random content is pointless. Sporadic posting doesn't give your audience enough exposure to your brand to be remembered. Your content strategy should be designed to engage and capture the attention of your target audience with consistent and repeated messages.

​Here's how to plan out and schedule 30 days worth of social media post ideas for your business accounts with ease.

​1. Identify your target audience (clients/potential clients).
​2. What do they want, struggle with, or need to be successful?
​3. Write out 5 buckets (categories) of content with topics addressing their pain points.
​4. Write out 6-8 topics for each category (bucket) that addresses their needs, pain points, desires, interests, and top struggles. How does your business help them?
​5. Write out your captions first. Then create your images/graphics/carousel/video content.
​6. Set a day or two aside to plan and batch create all of your social media posts.
​7. Use a content scheduler to streamline your social media calendar. We recommend Sked Social. This platform to schedule content for YouTube, Facebook, LinkedIn, Twitter, Google My Business, and Pinterest.
Create categories for your social media content
Continually producing valuable content is essential to help you maximize brand awareness, grow a loyal following, and ultimately connect with your potential clients through social media. Most business owners know and understand the value of showing up on social media consistently but running a business is a full-time job in itself. There's good news, however. You don't need to be creating and posting different types of content everyday. Whew!
In order to help people remember your business when they encounter your social media posts, you have to have a consistent focus or theme. You really only need 5 content buckets or categories that you vary and repeat often. Remember people will need to see your content multiple times to remember your business/brand.
Here are our suggestions for your social media posting categories:
Educational Content
1. Share a how to tip.
2. Video Tutorial for your products/services
3. FAQ's about your product/services
4. Ask your audience a question and answer in the comments
5. Industry News Article
6. Share an Infographic related to your business/industry
7. Share your favorite tools
8. Statistic Post
Entertaining/Motivation Content
9. Inspirational/Motivational Quote
10. Behind the scenes look at your work environment/work culture
11. Share a meme related to your industry
12. Funny quote post
13. Fun facts about your industry
14. One thing you can't live without
15. Lesson learnt (struggles you have overcome)
16. Find a trending Reel/TikTok video and give it your own twist
Content design to connect emotionally
17. Tell your brand story. Why you started your business.
18. Share a tip on overcoming obstacles
19. Shout out your favorite clients
20. Get to know us post showcasing your staff/employees
21. Repost content your business was tagged in on social media (UGC-User Generated Content)
22. Share your favorite part of working with clients
23. Behind the scenes look at your life
Social Proof
24. Client Spotlight
25. Share a testimonial or 5-Star Review
26. Client progress story
27. Behind the scenes look at business/client relationship.
Promotional Content
28. Offer a discount
29. Free consultation offer
30. Latest product/service promo
Additional tips for consistent social media posting:
In order to maximize your reach and produce valuable content across the vast digital space you can repurpose your content to post to your different social media channels. Create variations in size for your images, graphics, and videos to fit the optimal recommended sizes for each platform. Try Canva, an online design and publishing tool that allows you to quickly copy and resize your content to fit the different social media platform requirements. Change up your captions to match your audience by platform to vary your content.
Need more social media post ideas and inspiration?
We have created a 30 calendar schedule with prompt social media posting ideas to easily generate 30 days worth of social media content. Get your FREE 30 Days of Social Media Posts Content Calendar here.
​
Next Steps

​Don't forget to use hashtags. Be sure to check out our guide to generating the best hashtag sets for your service-based or small business.  
For more marketing/branding tips, click here.
Rosa I Evans is the owner and founder of Tridyn Creative Media, LLC, a branding/social media/marketing agency. She holds a dual Master's degree in media design with an emphasis on corporate branding and digital marketing, a Bachelor's degree in Art, and an Assoc. degree in graphic design. Using her vast experience and natural creative talent, she has been instrumental in the success of many notable brands.
Find her on social @rosaievans